Hello! Thank you for visiting my e-portfolio. My name is Mandi and I'm currently the Performing Arts & Humanities Librarian, as well as the Copyright & OER Advisor, at Cleveland State University. Please take a moment to explore this portfolio and learn a little more about me!
I'm originally from Appleton, WI and I got my BA in Music and English from the University of Wisconsin-Stevens Point. I graduated from the Library and Information Science program at the University of Illinois in Urbana-Champaign in May of 2013 with a special interest in academic libraries and music libraries. My first job out of library school was as Reference and Instruction Librarian at Georgia Southwestern State University in Americus, GA, and I now work as the Performing Arts & Humanities Librarian at Cleveland State University (CSU) in downtown Cleveland. In May 2018 I earned a Master of Education in Adult Learning and Development from CSU. My passions are information literacy instruction, open educational resources, critical thinking, sustainability in libraries, and creating strong campus and community collaborations.
My other interests include living a sustainable and zero waste lifestyle, playing my viola in one of Cleveland's community orchestras, watching nerdy things like Doctor Who and Star Trek, and going to indie music concerts.
Feel free to contact me with questions or comments in the Contact tab above. You can also connect with me on LinkedIn or through Twitter (my handle is mgoodsett1015). I'd love to hear from you!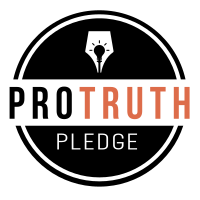 I signed the Pro-Truth Pledge:
please hold me accountable.